Working collaboratively towards ...
United Abasians in Nigeria and Globally, and Leading Equitable Sustainable Development
for our People and Land
APF seeks to mobilize Abasi People in Nigeria and Diaspora for collective self-emancipation from both internal and external marginalization and exploitation for equitable sustainable development.
We the Abasians as the 4th largest nationality in Nigeria, are committed to an equitable sustainable development by preparing, preserving, protecting, projecting and promoting our collective interest.
We are indigenous to the contiguous land and water from Biase and Akamkpa in the north to Ikot Abasi, Eastern Obolo, Ibeno, Mbo and Bakassi in the South and from Ukanafun, Ikot Ekpene, Ikono and Ini in the West, to Akpabuyo in the East.
We are a peace-loving and very hospitable Africans with rich culture and natural resources. Our shared identity, vision, mission, structure, strategies and operational framework are outlined herein.
The purpose of Abasi People Movement (Abasians) is to collaboratively work together for the emancipation of our people and land both in Nigeria & globally.
We find, get Abasians to join the movement, and committees. Sacrifice time and energy for the cause.
Today's youth need a helpful hand and right guidance at every stage. Here's where we take care of them like our own.
We focus on taking advantage of the United Nations program(s) to support indigenous people.
We work towards solving problems that present institutions have failed to solve/tackle, one per committee.
Use existing systems to minimize marginalization and emancipate our people.
We work towards a future where any Abasian can access help as needed.
One Supreme God (Akwa Abasi eyong mme isong ye si iyohore ke esit – Almighty God of the heavens and earth with everything therein)
One People (Ndito Abasi or Abasians)
One Language (with 7 major dialects)
Contiguous land and water in South Eastern-most part of Nigeria
Rich in natural resources (petroleum, arable land, water and mineral resources)
Marginalized, exploited and divided into 1.3 States, 4 Senatorial Districts, 13 Federal Constituencies and 38 LGAs in the contemporary Nigeria.
Existing international infrastructure for tourism and global commerce (airports, seaports, stadiums, roadways, hospitals, universities, electricity production, etc.)
Leaders of the COR state movement in the Eyo Ita, Udo Udoma, Ibanga Akpabio days.
Lessons from Ibibio Union vs. 4th Largest Nationality in Nigeria where our language was recognized and respected globally.
Need for unity, for emancipation from internal and external marginalization towards equitable sustainable development in Nigeria and globally.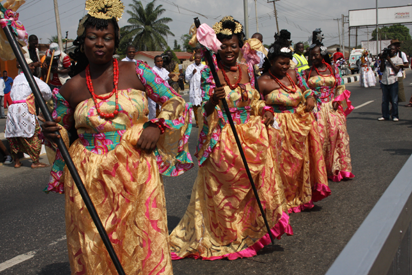 The Movement works through the Steering Committee and Congress.  Members are encouraged to put themselves forward and/or nominate people into the committees. The committees are;
Abasi People, Land & Culture
Annang Province, Calabar Province and Uyo Province should have been at least 3 States in the Contemporary Nigeria
Biafra Experience – not good memories
South Eastern/Cross Rivers State –
Republicanism—Lack of a central figure
Demonstrated transformational leadership and Infrastructure
One Language, Culture and God – Akwa Abasi Ibom ke Eyong ye Isong
Technology – Farming, Fishing, Raffia, Wood Carving, Traditional Medicine
Religious – very trusting and exploited by both indigenous and outside "men of God?)
Political history – active in Akwa Ibom State/South-South/South-East/COR
Over 10 million people – bigger than many countries
4th in Nigeria after Hausa, Yoruba and Igbo.
Vast land for sustainable agriculture and renewable energy along with petroleum 
Two airports, international stadium, a seaport and another in the making